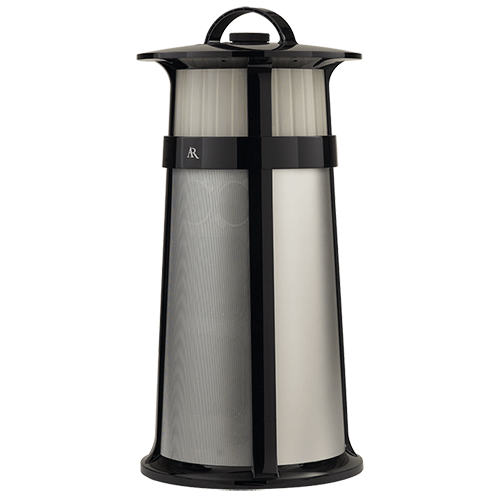 Hatteras Indoor / Outdoor Wireless Bluetooth Stereo Speaker - Refurbished
Original Price: $219.99
Price:
$69.00
The Hatteras Bluetooth® wireless Speaker is part of our Elite Series and it truly is elite. This speaker won the Innovations Award at the 2015 Consumer Electronics Show in Las Vegas. With two 20-watt amplifiers, it delivers 40 watts of true stereo sound in a single 2-foot tall tower system. A large, built-in passive subwoofer provides superior bass clarity. Home theater-quality sound is now available outdoors. Bluetooth® connectivity offers you the freedom to control and play music wirelessly from your smartphone or tablet and the Aux-input gives you the option of a direct connection. Not only is it well designed, it's weather-resistant and perfect for any season. The Hatteras also provides 360-degrees of LED lighting in multiple modes - music pulse, solid high and solid low so you can light up the night on your patio or deck. Now there's no reason your party should stop when the sun goes down.

The Hatteras Indoor RMAWSHTB has gone through our 3-steps refurbished process to ensure we are selling you a quality working system that is ready use out of the box. Products are sold as is. All sales final. See full terms and conditions here.
KEY FEATURES
Control and enjoy your music wirelessly from your smartphone or tablet with Bluetoothź
Listen to high-definition stereo sound outdoors or indoors
40 watts of power driving two midrange, two tweeters and large passive subwoofer
PRODUCT OVERVIEW
Features
(continued)
360° light with multiple modes
CUSTOMER REVIEWS
Awesome Hatteras Speaker
by
Robert Hughes
, on
2018-Jul-24
Super easy ordering process, complete with order status and tracking provided. Awesome speaker, glad its weather proof, sound easily fills our backyard area.
Great speaker
by
Gladymar V´┐Żlez Diaz
, on
2018-May-17
Awesome outdoor speaker. Would recommend to all friends.
Awesome quality
by
Gladymar V´┐Żlez Diaz
, on
2018-May-14
Great performance! I would recomend this Speaker to all my friends.
Hatteras Indoor / Outdoor Speaker
by
Gordon Dion
, on
2018-Apr-18
The Hatteras Indoor / Outdoor Speaker was easy to install and the sound was to perfection. It sounded like you were in the same theater as the recording but in my backyard. I recommend this product, hands down.
Amazing Sound and Value
by
Greg Hall
, on
2018-Feb-11
Great speaker for a great price. Sound is rich and deep. I'm using it for music and with a projector in my basement gym but would also be perfect for an outdoor patio.
Good piece
by
Jose Mateo
, on
2017-Dec-21
I liked the speaker.. I enjoyed listening to my music.
Excellent product
by
Daniel Munoz
, on
2017-Dec-18
Awesome quality for the price.
RMAWSHTB
by
Felicia Brown
, on
2017-Dec-12
Thanks for the speaker. I now can listen to my music form my phone.
Not what i was expecting....
by
Jason carter
, on
2017-Dec-03
Was really tentative about purchasing a refurb speaker and actually took big chance for the price i paid. But needed good bluetooth speakers for my new outdoor patio and spa and i bought two.Boy was i right to buy these. They are great. Great sound and ease of use, works perfectly. Totally recommen.
Works great!
by
Jacob webb
, on
2017-Sep-13
Fast shipping. Ordered two speakers. Both of them work great. Happy with my purchase.
Purchased recently and Item works great. Cant beat the price. Would buy again
Kacy
by
Kacy W
, on
2017-Aug-29
The quality of sound is outstanding. Only wish that it didn't have to be plugged into an outlet for better mobility.
Love My Hatteras!
by
Debbie
, on
2017-Aug-29
I was looking for a bluetooth speaker that I could use outside on my deck, as well as inside in my living room. This is the PERFECT speaker! The sound is awesome.My kids love the lights at the top that go to the beat of the music! My neighbors liked it so much that they each ordered 1!
The speaker
by
Arnaldo negron
, on
2017-Aug-29
The speaker worked as expected. I would highly recommend the product for the price good good
Awesome Speaker
by
Debbie
, on
2017-Aug-23
I ordered about 3 of these, one for myself and 2 others for my neighbors. We all LOVE it! They are perfect to put outside on the patio/deck, or inside.It has a great sound, easy to connect. My kids' favorite part is the light at the top which can be steady, or go along to the beat of the music.
Bold and Beautiful
by
Darrin Banks
, on
2017-Aug-23
If you like big sound then here it is. Bass heavy - sounds travels well outside and a great look. Well packaged doesn't look like a refurb. My only challenge is you have to plug in for power. That said this is my 2nd one. This one will be a gift.
Hatteras Outdoor Speaker
by
Scott Sevits
, on
2017-Aug-22
Speaker sounds great & family likes the look of it. Light feature is nice too. Shipping was reasonably priced and fast.
Everyone Loves It
by
Mark M.
, on
2017-Aug-22
Sounds great and easy to setup. I brought one to a family gathering and everyone thought it was the greatest. I bought 6 more to give out as gifts.
AR wireless speaker
by
Mike Albanesi
, on
2017-Aug-22
I have a pretty large backyard and was pretty impressed by this speakers ability to fill it with sound. The sound quality was just as impressive. I would recommend it to anyone looking for an indoor/outdoor speaker.
AR Wireless Speakers
by
Richard Singh
, on
2017-Aug-22
The speaker worked as expected. I would highly recommend the product for the price.
Just received my Hatteras speaker yesterday. It was just as advertised and at a great price! Will be sure to tell my friends about voxxoutlet.com.